A slide presentation featuring origins of blues music and audio/video clips of early bluesmen and women
A demonstration of the structure of the blues, both musically and lyrically
Performance of a blues medley to illustrate both similarities and differences of classic blues songs
An interactive workshop to write a blues song with the audience
Early blues artists featured in this presentation
Charley Patton (1891 – 1934)
Son House (1902 – 1988)
Blind Lemon Jefferson (1893 – 1929)
Arthur "Blind" Blake (1890 – 1933)
Sonny Boy Williamson (Aleck "Rice" Miller, 1899 – 1965)
Sylvester Weaver (1897 – 1960)
Joseph Lee "Big Joe" Williams (1903 – 1982)
Francis Hillman "Scrapper" Blackwell (1903 – 1962)
James "Kokomo" Arnold (1901 – 1968)
Robert Leroy Johnson (1911 – 1938)
Booker T. Washington "Bukka" White (1906 – 1977)
Big Bill Broonzy (1893 – 1958)
Muddy Waters (McKinley Morganfield, 1915 – 1983)
Chester Arthur "Howlin' Wolf" Burnett (1910 -1976)
Aaron Thibeaux "T-Bone" Walker (1910 – 1975)
"Little Walter" Jacobs (1930 – 1968)
Otis Spann (1930 – 1970)
John Lee Hooker (1917 – 2001)
Riley "B.B." King (1925 – 2015)
Gertrude "Ma" Rainey (1886-1939)
Bessie Smith (1894-1937)
Mamie Smith (1883-1946)
Ida Cox (1896-1967)
Big Mama Thornton (1926 – 1984)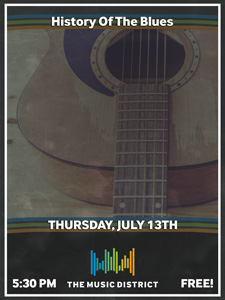 History of the Blues presentation
I delivered my History of the Blues presentation on Thursday, July 13, 2017 at the Music District, 639 S College Ave, Fort Collins, CO. Click the button for an overview.
Music District event info
From all of us at the Music District, I wanted to thank you so much for your presentation on the History of the Blues this week. Participants seemed to have had a wonderful time learning and listening to you speak on a topic about which you are clearly passionate.
Kebrina Chirdon